31 Jan

5 Smarter than before Wearables and Smartwatches showcased at CES 2018 – Garmin Forerunner 645 Music, Suunto 3 Fitness, Misfit Path, Casio Smartwatch, MyKronoz ZeTime

Consumer Electronic Show is the global stage where next-generation innovations are introduced to the market. From what is considered as the greatest gadget show on earth, this year's CES2018 at Las Vegas showcased a bunch of pretty neat and "smarter than before" fitness wearables and smartwatches between 9-12 January, 2018.

Here is a list of our pick of best wearables and smartwatches from the gadget extravaganza.  
Garmin Forerunner 645 Music
The Forerunner 645 Music has three main exciting features – advanced running dynamics, contactless payment, and a great local, on device music storage. Music storage worth 500 songs allows the runner to run sans their phones, something that others tracker's have not provided so far. You can transfer music from your computer and then line up your favorite playlist for easy listening, needless to mention, through Bluetooth headphones – phone free listening! You can also sync music from select streaming services for offline listening.
The wrist-based heart rate monitor in the device keeps the user updated about their performance status. It reads the exercise history and performance indicators to suggest if the user needs to change their exercise intensity or pattern, or if they are doing just fine. The device carries high end features like the barometric altimeter and provides advanced running dynamics, including ground contact time balance, stride length, vertical ratio and more.
The device uses NFC (near field communication) technology to provide contactless payment solution to its users, allowing them to leave their cash and card at home and still be able to make payments conveniently.
With battery life of up to 7 days in Smartwatch mode and 5 hours in GPS mode with music, just like other Garmin wearables, this one will also on the higher end of the price spectrum. Garmin says, the Forerunner 645 Music will be available at a retail price of $449.99 and will be available in five to eight weeks.
Suunto 3 Fitness
Suunto 3 Fitness is making news owing to its particularly skillful adaptive training guide, which many users will find very useful. In addition to step counting and sleep tracking, this smartwatch will make a one week fitness plan for you, suggesting what challenges you should take and how long should you run, climb, etc. everyday. The watch will study your fitness level and exercise history to make this plan.
The more you wear it, this smartwatch will monitor and understand your heart rate pattern to give you real-time guidance and suggest activity accordingly. In a way it personalizes your activity schedule depending on how your day went activity wise. The device can also factor in information from the sleep tracker to help determine recovery time.
However, the device does not have a built-in GPS. It tracks walking and running using the built-in accelerometer to deliver speed, pace and distance details. You can set it on sports modes for either running, swimming, cycling and gym training.
Sunnto 3 Fitness will be available in the spring and will be sold at a retail price of about $280. To be precise ~ $270 for the gold and all black version, and~ $237 for the ocean and sakura models.
Misfit Path
The new Misfit Path which is just 38 millimeters in diameter, is one of the smallest hybrid smartwatches ever made. It is a stainless steel hybrid smartwatch, which looks more like an ordinary traditional analog watch but has the bluetooth connectivity of a smartwatch.
This smartwatch is water-resistant up to 50 meters and comes with a replaceable coin cell non-charging battery that lasts up to 6 months. It lets the user seamlessly track their activity, sleep pattern, set goals, receive vibration notifications, create smart alarms and movement reminders, control other connected smart devices with just a touch of a button. The user can also launch apps on their phone straight from the smartwatch.
The Misfit Path will be launched in spring and will cost $149.99, a pretty affordable price compared with other hybrid smartwatches. The Path will be available in four different metal tones and color combinations: Stainless Steel, Rose Tone, Gold Tone, and Stainless Steel with Gold Tone Accent.
Casio G-Shock Rangeman GPR B-1000
What's new about this smartwatch from Casio? Well, it is the world's first solar-assisted GPS navigation device. It recharges with just 4 hours of sunlight! So Casio G-Shock Rangeman GPR B-1000 is just the right choice for adventurers and trekkers who love to go out in the wilderness for long hours.
The watch comes with a built-in GPS system. On a full wireless charge of five hours, the watch can use GPS functions for about 33 hours. Casio says, once charged with 4 hours of sunlight, it provides GPS navigation for one hour.
It also has a Triple Sensor (alti/barometer, compass, thermometer) and Bluetooth connectivity. It is water-resistant to 200 meters and also resistant to mud and dust and cold temperatures of -20℃ / -4℉.
The watch will be available for sale in April 2018 and will be priced at $800.
MyKronoz ZeTime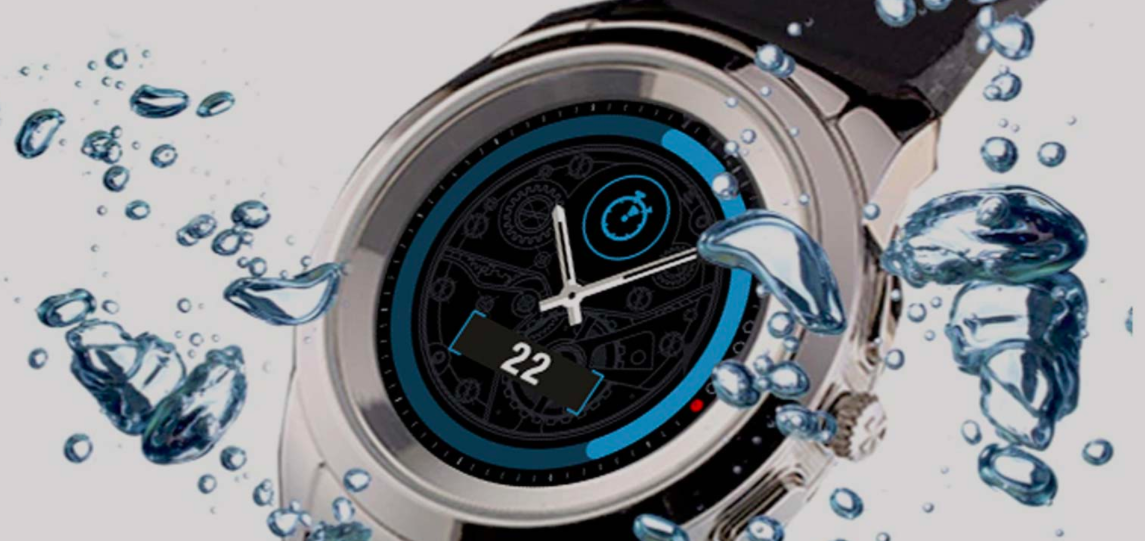 Photo Courtesy: https://www.mykronoz.com/eu/en/zetime.html
Backed by more than 35K supporters, MyKronoz ZeTime was the most funded hybrid smartwatch of the year 2017 according to Business Wire. Two varieties of this smartwatch was featured at CES 2018 – ZeTime (44mm) and ZeTime Petite (39mm).
These watches combine mechanical hands with touchscreen to save battery life. One interesting feature these watches have is the Proprietary smart Movement – which means that when receiving notifications ZeTime's mechanical hands will align horizontally to maximize visibility of the screen allowing the text to be seen clearly.
Users can control their phone's functions right from their wrist. They can take a picture, view calls, read notifications, check weather forecasts, control music etc. Among many advanced features, it sports optical heart rate sensor to monitor your heart rate throughout the day, its 5 ATM water resistant and also monitors sleep patterns. It supports multiple time zones and can automatically update to your local time. With a single charge these can go up to 30 days. Starting at $199, this one seems to be pretty decently priced for all the functionalities it provides.
We keep track of new happenings in the wearables and smartwatch world so we can share them with you. So stay tuned!
GetHealth is a unified solution to access health and wellness data from hundreds of wearables, medical devices and apps.